The Upper Lakes Voyage of Dragon III Ė Summer 2005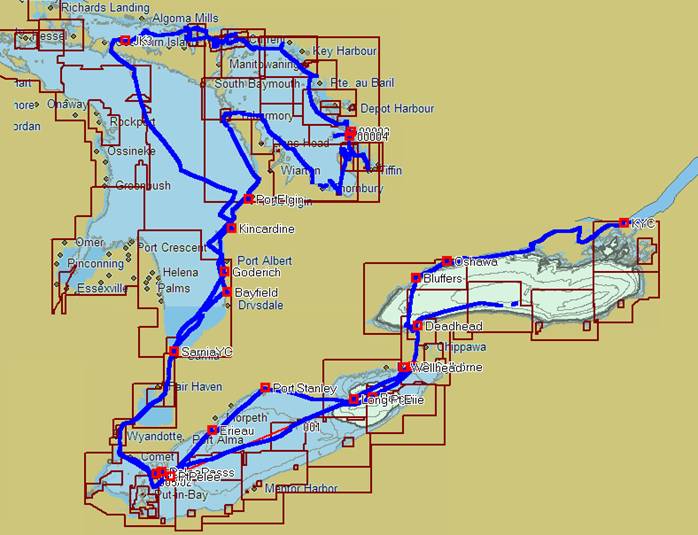 Hereís the trip GPS track there and back again. The first part of Lake Ontario is missing because things were a little exciting and wet to have the computer running to keep the track. Likewise, there are some gaps while we were racing and other stuff.
This will be a really bare bones web repository for the trip report emails and photos I have been sending off to a growing mailing list. It may get a little fancier later, but for now it is going to be simple. These are the emails I sent so far, along with a selection of photos. The photos are big files, so they make take a while to download over a slow connection.
Just about the whole crew was out on Thursday before we left. The only one missing was Tom. From left to right, top to bottom, they are Megaera, Norma, Sue, Rob, Louise, Rick, Laura, Laurence and James.
Port Dalhousie arrived Saturday July 2
We had a pretty good heel on out on Lake Ontario.
Port Colbourne arrived early morning Monday July 4
Here we are on our way into the Welland (Adam, Laura, Rick) and this is what it looked like locking through in the dark (1, 2) with Adam.
On Lake Erie Monday and Tuesday July 4/5
Things were pretty calm. Adam was pleased.
Pelee Island arrived about Tuesday July 5 and stayed over Wednesday
We found a huge dragonfly dead in the cockpit. Hereís Adam with the trophy. I eventually left it with the marina operator for her grandson. We rented bikes, including this weird one, and went to the winery, which had some interesting other visitors. The vines. The roses. Thereís commercial fishing on the island and we enjoyed the perch and pickerel from it.
Lasalle arrived Thursday July 7
On the St. Clair River anchored for Friday July 8 and Saturday July 9
Hereís the police checking out the sunken boat. The freighters pass by quite close, some with interesting deck cargo.
Sarnia Yacht Club for three days Sunday, Monday, Tuesday July 10/11/12
I got intimately familiar with the distributor and the rest of the ignition system.
Bayfield arrived Wednesday July 13
Bayfield Still on Thursday July 14
What a great day in the sun. Obligatory Sarong Shot, because some of you asked. It turns out I donít know my own strength. Some boats cross fairly closely out in the middle of nowhere.
Lake Huron, approaching Port Elgin on Saturday July 16
Approaching Sauble Beach on Saturday July 16
Itís a long way to Tobermory on Sunday July 17
Itís dead flat out here, so Peggy (1, 2, 3) and I arenít doing much.
An interesting little note from Tobermory on Sunday July 17
Tobermory to Meaford, arriving Tuesday July 19
A Short Hop to Collingwood, arriving Thursday July 21
The Georgian Bay Sailing Regatta ran from July 23 to 30 and was a great time with great people!
In Collingwood we were greeted by a welcome mat with great advice for the rest of the journey. The Collingwood Yacht Club is dominated by the out of service grain elevators that make a great wind break.
The first half of the GBSR, taking us from Collingwood to Midland, arriving Tuesday July 26
The second half of the GBSR, taking us from Midland to Thornbury, arriving Saturday July 30
Laura wrote a great regatta report, which she asked me to add to the site.
In Thornbury we had great fish and chips just across the street from John Gylesís store where I bought a bunch of bits, including new batten material. Johnís father, Ced, went to school with my father back in Vancouver.
Thornbury to Collingwood Tuesday August 2 and our impromptu racing opportunity.
Collingwood to Christian Island Wednesday August 3
Christian Island to Midland Thursday August 4
Midland to Twelve Mile Bay Saturday August 6
Twelve Mile Bay to Echo Bay, then Bayfield Inlet Sunday and Monday August 7 and 8
The sunset was wonderful over the water and I took a lot of pictures. Hereís one of them.
Bayfield Inlet to Bad River Tuesday August 9
Bad River to Killarney Thursday August 11
Still in Killarney messing with the charging system Friday August 12
Killarney to Powderhouse Bay Saturday August 13
Powderhouse Bay is lovely and gets a really unenthusiastic write-up in the Ports book.
Powderhouse Bay to Little Current, arriving Tuesday August 16
While in the anchorage at Heywood Island we enjoyed the attentions of a pet seagull, and a pancake breakfast with expensive syrup. I got a shot of the moon rising over the federal building in downtown Little Current.
Little Current to Clapperton Island, arriving Wednesday August 17
Clapperton Island to the Benjamins, arriving Saturday August 20
The Benjamins to Kincardine, arriving Saturday August 27
Then home for a week to send the kids off to University and watch Tobin and Brandie get married.
Kincardine to Colchester, via Goderich
Colchester to Long Point, via Pelee Island
Long Point to Prinyerís Cove, through the Welland
That was more or less the end of the adventure for 2005.